Everyone loves tacos, and Taco Tuesday is the perfect excuse to indulge weekly with friends. The ultimate Taco Tuesday is coming up on October 4th, which is National Taco Day. Prep for the big day with these healthy vegan Soy Chorizo Tacos. We promise you won't miss the meat, but if you're feeling adventurous (or are not vegan) you can try this recipe with the real thing.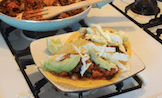 Taco Ingredients:
1 TBSP Olive oil
1  small onion, chopped
1 red pepper, chopped
1 package soy chorizo
1 can black beans, drained
1 package corn tortillas
Toppings: salsa, avocado, cabbage, squeeze of lime
Heat oil in a large pan. Sauté onions over medium heat until soft. Add red pepper and sauté until soft. Add soy chorizo and black beans to pan. Cook for 5-10 minutes, stirring occasionally. Warm tortillas on stove top or in the microwave. Add "meat" mixture to tortilla. Top with salsa, shredded cabbage, and sliced avocado. Squeeze lime on top.