My introduction to the sport of triathlon was an unexpected one. Even though I grew up swimming and was a Track & Field athlete in college (primarily focused on the High Jump), I never envisioned myself participating in endurance sports. In fact, I didn't even like to run the mile in high school! But one bucket list item – completing a marathon – turned into a passion, and I became hooked.
Participating in local 5Ks and half marathons became a monthly hobby of mine for a few years, until I went through a devastating break up. For weeks I became a hermit and dealt with a bought of depression. Luckily fate intervened and I saw an ad for a local triathlon – the Tidewater Sprint. I signed up on a whim and only had two weeks to buy a bike, reintroduce myself to swimming, and learn how to transition from swim to bike and bike to run.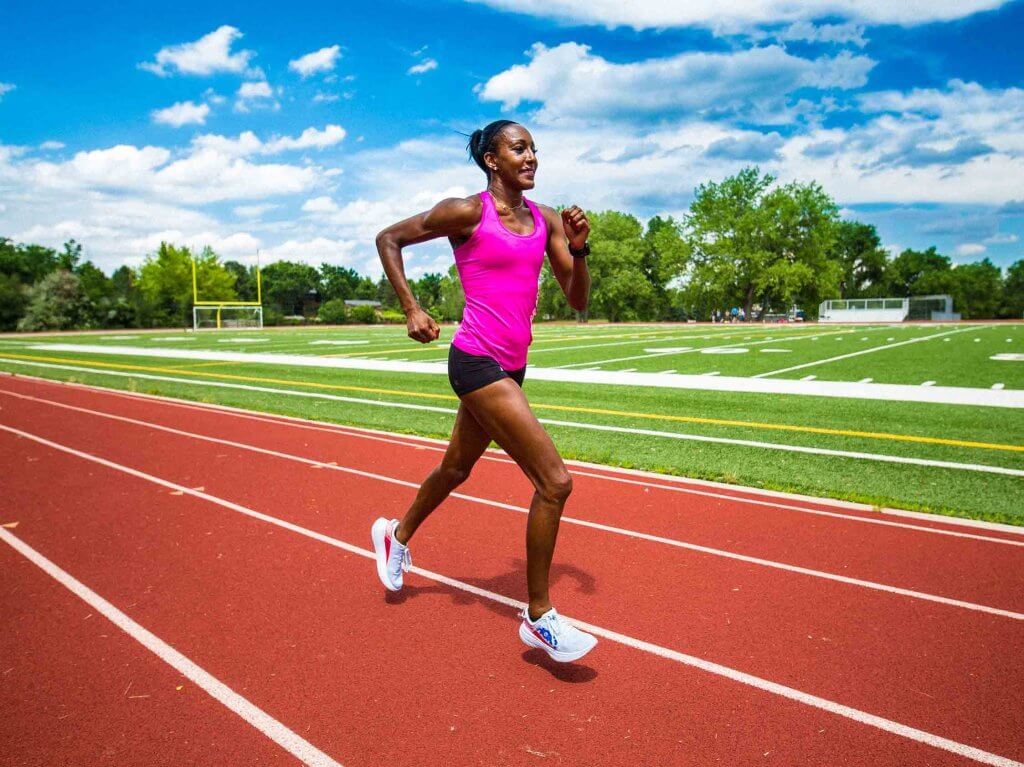 I will always remember my first triathlon in 2013. I competed in a Speedo, rode a mountain bike in sneakers, and nearly walked the entire run. I came in close to last place! But I didn't care. I found it exhilarating and wanted to see how much faster I could get.
Doing structured training, which included two to three weekly swims and bike rides in addition to running, took my cardio to a new level. I went from not being able to break 20 minutes in a 5K to running low 18s and surprising myself with back-to-back marathon wins, as well as a win at the local sprint triathlon that introduced me to the sport! 
As I became more involved in triathlon my personal goals got bigger, as did my passion for increasing diversity. I learned that only 0.5% of African Americans participate in the sport, approximately 70% of African Americans lack basic swimming skills, and black children drown at a rate three times higher than white children. Even though my ultimate goal is to earn a pro card, I hope that any success I achieve in this sport will inspire others to participate; or at the very least encourage them to develop a lifesaving skill – swimming.
My journey so far has come with many highs: competing at the IRONMAN® 70.3 World Championships, breaking 1:30 in the half marathon run at IRONMAN® 70.3 Atlantic City, and making the podium at each IRONMAN® 70.3 race I competed in last year. It has also come with its share of lows: a bike crash in April that left me with a broken nose, over 40 stitches to my face, and severe road rash on various parts of my body. Luckily with the help of my amazing support system – family, friends, coach (Jonathan Caron), and my team at HOKA – I have been able to bounce back swiftly.
One of the highlights of my year so far was being given the opportunity to work one-on-one in Boulder, CO with IRONMAN® legend Dave Scott. We worked on seated climbs and out of saddle climbing techniques, proper arm carriage while running (especially when fatigue sets in), and techniques to engage my glutes and transverse abdominus. I also learned how to use swim chords for the first time!
Lucky for me, my season doesn't end yet. It's just getting started. I will be competing at the IRONMAN® World Championships in Kona next month. The race that Dave Scott has won 6 times! As we approach the race, I had the chance to interview Dave about how to approach my first full IRONMAN® at Kona this year. I am very fortunate to have him as a resource as I head to the big island to swim 2.4 miles, bike 112 mile, and run 26.2 miles. After hearing his advice, Dave asked me three questions that helped me feel more confident as I approach race day.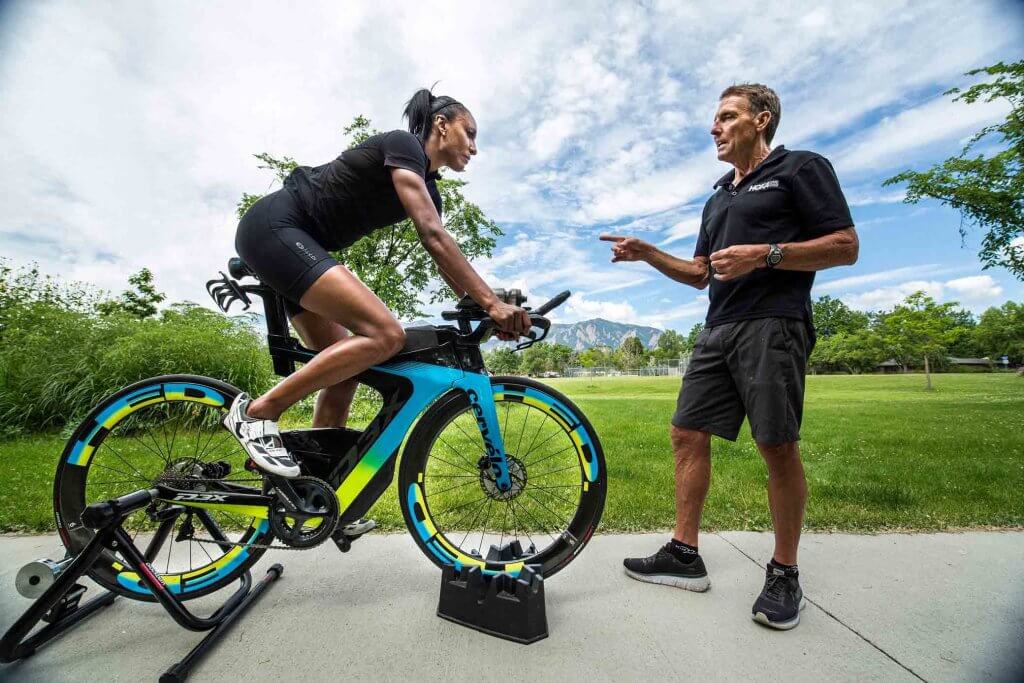 SIKA: How do you handle nerves, especially at a race like the IRONMAN® World Championships? 
DAVE: To fight race nerves, it's important to maintain routine, know the course and be confident.
What does this mean?
Maintain the same weekly routine.

Use the same days to work out and insert "like" intensities so you can feel your body respond just like your workouts.  Also, maintain the same evening routine. Do you listen to music? Answer a few emails ? It's also essential to maintain the same food intake – just like a training week! 

Have a mental road map of the course.

 Knowing the subtle nuances of the course allows you to break the race into segments. These are not equidistant. For example, the opening 4.7 miles is challenging for everyone.  Climbing up the back-side of Palani Hill, sharp turn at the bottom, climbing again and finishing off the final 800 meters going up the 5 – 9 % grade of Palani does not allow a good rhythm. So, recognize the outset ,and more importantly have a plan to ride this short segment

Do a physical inventory throughout the race.

When you swim take slow big breaths, relax your face, neck, shoulders arms during the recovery.  On the bike, take smooth pedal strokes and periodically LOOK at your legs— talk to them! Start at the top of your head and again, calm your non-working parts down. The energy is in your glutes and quads! 

Find a mantra.

Fear of the unknown or fear of failing can be squelched by reciting simple phrases or words before the race and during.  
SIKA: You're bound to hit rough patches in a race. Especially one as long as an IRONMAN®. What do you tell yourself or think about to keep going? 
DAVE: One phrase that is helpful is "Do what you can do at the moment".  The grammar is incorrect but the message is just be present and go over the physical control that I mentioned above. Phrases or words that allow you to flow or relax are key.  Fluid, smooth, slow breaths in and out of your nose will also control your parasympathetic nervous system which is calming and reducing anxiety.  
SIKA: I think most high performing athletes are pretty hard on themselves. When your performance at a race doesn't meet your expectations, how do you handle the disappointment? 
DAVE: I'm not planning on this outcome for you, Sika! I always ask my athletes even in the face of  a disastrous race, "What did you do well?". I start the moment they wake up and dissect their day. It's important to stay positive even after disappointment.
Now, here are three questions Dave asked me to help me assess my own preparedness going into this race. Answering these helped me feel confident and ready to take on the day. If you have a big race coming up, I would encourage you to take the time to answer these questions for yourself!
DAVE: What do you focus on that makes you feel confident going into this race?
SIKA: I draw confidence from the hard workouts I pushed through during my most recent block of training. There were times when every part of me wanted to stop. Knowing that I was capable of finishing 100+ mile rides and hard 16-mile runs gives me confidence that I can keep going when things get tough. I also worked with a strength conditioning coach for the first time this year. I plan to focus on the gains I made on the bike as well as in the weight room to give me confidence going into this race.
DAVE: What do you recognize as your weaknesses going into this race and how will you keep them from getting the best of you?
SIKA: I tend to suffer from pre-race anxiety, which can leave me exhausted heading into a race. The mind controls the body so I know how important a positive mindset is heading into a big race like the IRONMAN(R) World Championships. Knowing that this is a weakness of mine, I have made a conscious effort to focus on the things I have control over – nutrition, rest, recovery. 
Being an athlete that tends to struggle more mentally than physically means that I have to make a conscious effort to turn off the negative thoughts. This is something I practiced quite often during workouts this year. I plan to rely on my positive queue words and phrases to help me on race day.
 DAVE: What are your three biggest goals going into this race?
SIKA: Since this is my first time tackling such a huge race like the IRONMAN® World Championships, my first goal is to stick to MY race plan, which means focusing on myself and not what other competitors are doing. My second goal is to have fun! I think this is a tremendous opportunity I've been given. I want to cherish it. I'm looking forward to swimming in Kailua Bay, riding on the Queen K, and running down Alii Drive. My third goal is to finish. I have no time or place goals. If I stick to my plan, give it everything I have, and cross the finish line, I will be happy.
Sika will be racing at IRONMAN® Kona in the HOKA Carbon X. Follow her journey to become the first African American female triathlete with a pro card here.